Coming across these statues in the woods the other day…
…was totally unexpected, and made me smile.
Even nature's rubbish, like this fallen tree trunk looks beautiful…
…and its feeding all kinds of new life.
I've been collecting fallen wood on my daily walks for a while, and recently bought myself a wood carving knife to see what I could do. This is my first carving!
It may not look much, but I really enjoyed working with the wood. I intend to keep working with the wood I find – it's very relaxing.
Christmas is Coming!
This holly tree is full of green berries just waiting to ripen.
What do you you when you wake up to find a poorly hedgehog sitting in the middle of your front garden? After phoning round various animal charities we were told to take him to the vets.
The vets took him in, kept him warm, fed him and checked him over and called late in the afternoon to say he was alright to be released back into our garden.
He was asleep when we got him home, but we left his box open and about half an hour later we were pleased to see him walking down the garden on his way back to his home.
Another member of my tree collection – the lime tree in full blossom.
Lime blossom tea has always been one of my favourite herbal teas, but I have only just discovered how beautiful lime trees are!
Nature is full of such amazing designs! This seed head…
…is so beautifully symmetrical – such inspiration! I have no idea what the plant is called – can anyone tell me?
I've always been cross with myself that I couldn't name the trees around me, so I'm making an effort to learn all their names, and keep a photographic record of them. This sweet chestnut tree…
…is full of blossom now, but will be loaded with fat juicy nuts come the autumn. Christmas shopping with a bag of hot roasted chestnuts in my pocket – yummy!
Looking back at this view of the lakes…
…over another wheat field. This one's not quite so ready to be harvested.
Sun ripened wheat…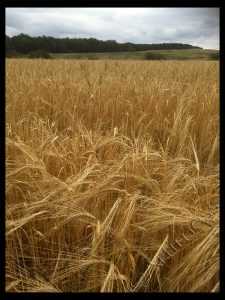 …ready to be harvested.