I've been walking this path through the wheat field….
…watching the wheat turn from green to gold.
The new hawthorn hips….
…are transforming the hawthorn bushes after their raggedy look as their flowers came to an end.
Even the buds of the hogweed plant…
…are really beautiful!
How can such beautiful flowers…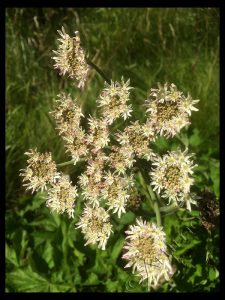 …have such a horrible name – Hogweed!
Walking between the trees on this footbridge took every ounce of courage that I could find!
I was so relieved when I got to the end of it!
These stairs to the sky, made yesterday's railway bridge look tiny!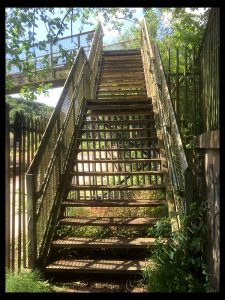 And what made it worse was that I had to come down them – my worst nightmare. But I made it!
Mastering this bridge over the railway…
…made me feel quite proud of myself. I suffer from vertigo, and struggle with anything high that is not enclosed!
Looking across the lake in the rain…
…can you see the rain drops on the water?
Looking across the weir…
…such peaceful view!
Wild orchids…
…at least I think that's what they are. Do you know differently?