Hail stones…
…and it's nearly May!! What happened to the sunshine?
Getting ready for an upcoming outdoor course, I've been testing this day bag.
It's designed as a cycle bag, but I'm finding it perfect for me for walking!
From where I was standing these looked like two giant cotton reels.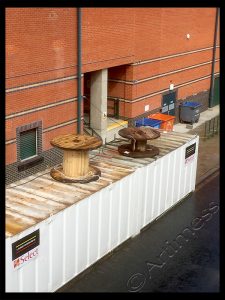 I wonder what their threads were used to stitch together?
Recycling rainwater container…
…just a fancy name for a giant water butt!
Walking round the perimeter of our local shopping mall, I was struck by the sight of all these cardboard boxes.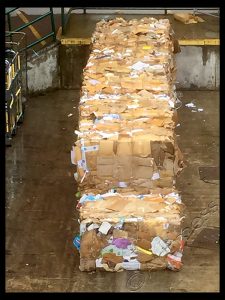 I wonder how many boxes there are in each of those blocks?
Still in Sheffield Cathedral, I was attracted to an unusual altar covering in the Crypt Chapel.
This is a small detail taken from it.
Sheffield Cathedral commissioned the artist, Brian Fell, to create a nativity scene from sheet steel.
This is the result – I really like it.
Looking up…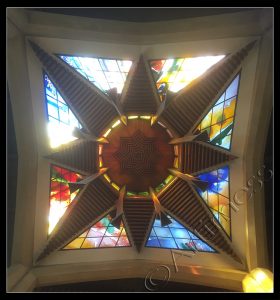 …in Sheffield Cathedral.
Daisy, daisy … the daisies are popping up everywhere now.
A sure sign that summer's on the way!
I couldn't resist taking this picture of the lime mint in the early evening sunshine.
The colours are just so beautiful, and it smells good too!