Watching the water flowing down the River Don…
…while waiting for a ride home from town.
I'm not sure that this stick man is a very good advert for the healthy lifestyle he's advertising.
He looks a bit undernourished to me.
I did a bit of digital wizardry to create this tree within a tree. If you look very closely, you may be able to tell how I've created it.
It's a baby oak tree – one of my favourites in the wood.
When I looked at this photo it looked to me as though the branches were dancing.
I can see the disco lights. Can you hear the music?
Looking up, while walking through the woods, I love to watch the way the light plays on the leaves of the trees.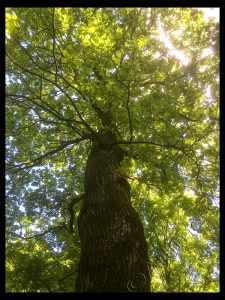 And I love the way the tree trunk disappears with the change in perspective.
I love cloudy skies. Watching the patterns and shapes that appear as they move across the sky.
The photograph doesn't show it very well, but these clouds looked like something from a 3D film with all their separate layers.
These yellow poppies…
…look so stunning up against the brickwork.
Dandelion 'clocks', as we used to call them when we were children, have such amazing patterns…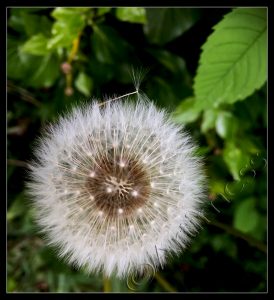 …I never tire of looking at them and taking photographs of them.
Nature is full of so much vibrant new life at this time of the year…
…these leaves look ready to jump straight out of the screen!
With it's bends and coils…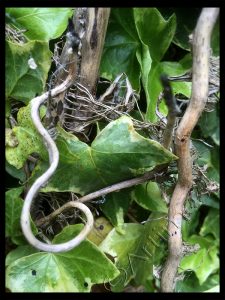 …nature is never boring!