For many many years, I have resisted the lure of the die cutting/embossing machines considered essential by most of my crafting peers.
But I have finally succumbed, and I spent last night playing with my new toys! I don't generally make cards until I need them, but this was my first finished product!
Today we were supposed to be going out for the day to celebrate my birthday, but last night it snowed…
… so we postponed the trip and I went out with my camera instead. A splash of red in all that white!
I got a bit behind with posting my images, the last couple of days – so here are the catch-ups!
I like to read unconventional books…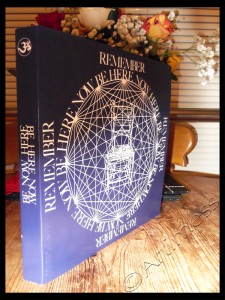 … and Be Here Now is definitely in that category. It was something of a cult book in America back in late 1970's, and is unusual in the way it is printed. The content is very thought provoking.
I've been doing a lot of white on black work over the last few days, but yesterday I thought I'd ring the changes…
… by taking a white on white picture.
That's the catching up done. You'll have to wait till later for today's offering!
Getting ready to create, white on black…
… shapes, angles, shadows, reflections – all combine to make a whole.
Do you remember the Nature Table at Primary School?
I never grew up! – I still collect bits on my walks and scatter them round the flat.
Every week since Bry and I have been together, he has bought me flowers.
This rose is part of today's gift. Beautiful – isn't it!
Today, it was cold and icy outside…
… so I stayed indoors and played with some Macro shots!
Today saw fresh snow falling on yesterday's ice…
… making everything look pretty – hiding the danger lurking underneath.
I took a walk to look at the sea today…
… but didn't want to risk skating on the sea of ice!
On these cold grey winter days…
… every bit of colour makes a difference.
Foil and kitchen roll – using everyday items
… to produce interesting artistic creations!