I collect all kinds of things that catch my eye while I'm out walking…
…a bit like a magpie really! But what is this?
I collected these cob nuts from the side of the path…
…they look so perfect, but when you turn them over they're just empty shells. Squirrel's leftovers!
I just had to take a picture of this odd oak…
…I couldn't help wondering what made its branch so thick.
These steps in the woods were so steep…
…I didn't know if I'd make it up them. But I did – and I made it back down again. Well proud of myself!
This is a close up of the the oak face…
…sitting above the big ball in yesterdays picture. Did you notice it?
Does anyone know what could cause an oak tree to form a growth like this big round ball?
It's very big and feels full of energy, but I couldn't find anything online that really explained what could've caused it.
Looking at this view through the oaks…
…makes my heart sing! The leaves make such beautiful patterns.
Just look at the clouds over this cornfield…
…aren't they just beautiful!
This baby acorn…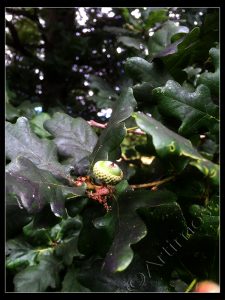 …is a sure sign that autumn is on its way.
I love how this image is looking over the motorway, making it look like its at ground level…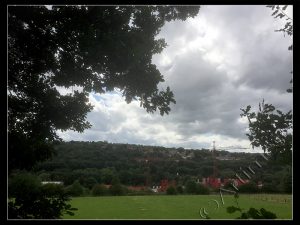 …when in fact it's way up in the air.