For the last few days, the sun has been shining making it feel warm even though the temperature is still quite low. I've been out walking every day, and everywhere I look there are signs of new life – spring is coming!
48/365 – Trees are budding…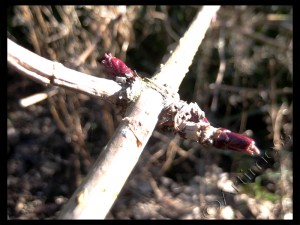 49/365 – Green shoots are appearing in the leaf litter…
50/365 – and Bright Colour is appearing where before was only drab green.
Winter is losing its grip!
I got a bit behind posting my photos, so today I'm playing catching up!
45/365 – I've been having fun taking part in the Artella Mystery Muse 2013 Project.
I made this card and envelope for my mystery gift recipient
46/365 – Yesterday and today I have been looking at reflections.
This picture postcard view of Whitby harbour has beautiful reflections.
47/365 – In contrast, today's photo has much humbler origins.
The street puddle! It too has beautiful reflections.
Getting ready…
… to play ink splatters!
Today I needed to create some letter stencils…
… so I recycled some used chipboard letter sheets!
Drifting on the tide…
… dead wood becomes desirable.
Painted pebbles…
… from the beach!
I came across this abandoned dummy at the side of the road today.
Was it dropped accidentally? or was it thrown from the pushchair in a temper tantrum? I wondered.
Today I received a lovely surprise gift. Last month I signed up to take part in the Artella Mystery Muse 2013 Project for the month of February. You promise to send two creative offerings to a person whose details they send you. In return, you receive two gifts from a Mystery Muse who has been given your name and address.
Today I received this lovely gift from my Mystery Muse. Thank you so much, whoever you are.
It was cold outside today…
… so I stayed in and made some little notebooks. Cute, aren't they!
Spring is coming! There are little signs everywhere you look.
It's so good to see the colours returning.