Sitting on a wall waiting for Bry…
… watching more summer feet!
Sitting drinking tea on the sea front yesterday, I was people watching!
Or to be more precise… feet watching!
The sight and smell of bluebells always brings back childhood memories of school holidays, playing in the bluebell woods close to my home. Back then, picking wildflowers was allowed, and we would go home at the end of the day with large bunches to decorate and fragrance the house.
Now my pleasure is more passive. I enjoy the play of light through the trees on the flowers, and sit close by for a while enjoying their sweet perfume.
Spring is definitely here now. Everywhere I walk, there are daffodils, tulips, crocuses, primroses and other spring flowers that I don't know the names of in full bloom. The birds are busy courting and the trees are starting to put on their summer green.
The colours are so vibrant and alive in contrast to the winter greys we have been accustomed to.
For the last few days, the sun has been shining making it feel warm even though the temperature is still quite low. I've been out walking every day, and everywhere I look there are signs of new life – spring is coming!
48/365 – Trees are budding…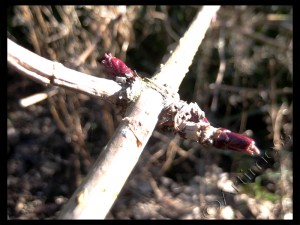 49/365 – Green shoots are appearing in the leaf litter…
50/365 – and Bright Colour is appearing where before was only drab green.
Winter is losing its grip!
I got a bit behind posting my photos, so today I'm playing catching up!
45/365 – I've been having fun taking part in the Artella Mystery Muse 2013 Project.
I made this card and envelope for my mystery gift recipient
46/365 – Yesterday and today I have been looking at reflections.
This picture postcard view of Whitby harbour has beautiful reflections.
47/365 – In contrast, today's photo has much humbler origins.
The street puddle! It too has beautiful reflections.
Getting ready…
… to play ink splatters!
Today I needed to create some letter stencils…
… so I recycled some used chipboard letter sheets!
Drifting on the tide…
… dead wood becomes desirable.
Painted pebbles…
… from the beach!